In Outlook 2016 and Outlook 2019 i had a problem that new mails were not displayed after starting outlook until switching from offline to online mode or clicking on a another folder of the IMAP-Mailbox! pressing the "send and receive" button did not show up the new mails, also not, after recreating the send-and-receive-group.
after switching the offline mode or clicking on a another folder, moving a message, deleting a message, marking a message as read, or whatever performs any IMAP operation, the new mails appeared immediately, and from then on the problem was gone, until closing outlook completely and start it again.
basically after hours of testing and trying one of this two things must have fixed it:
first: i specify the root folder path with INBOX.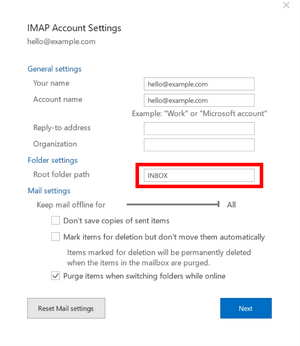 second, i closed outlook, deleted the OST file of the IMAP mailbox and restarted outlook. at the first startup outlook hang (on different clients), but after closing it with the task-manager and starting it again, it took a long time to download the IMAP-Mailbox, but after it was finished, the weird problem disappeared.
so it seems as the OST file was somehow corrupted – i tried before to fix it with the scanpst-command, but without success.
hope this helps somebody to shorten his day.